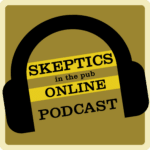 How does food make you feel? We need food to survive, but often we don't stop to think about why we eat the way we do. From birth, we are shaped by our early psychological environment, which ultimately affects what, where, when, and why we eat. Are your parents really to blame for everything? Can you actually eat your way out of depression? Or is it perhaps a bit more complicated than that.
Pixie Turner is a registered nutritionist (RNutr) and psychotherapist (MBACP), and director of The Food Therapy Centre, where she specialises in food and body image issues. She is the author of several books, including 'Food Therapy' which was released this year. In 2020–21, she co-hosted (alongside cardiothoracic surgeon Nikki Stamp) 'In Bad Taste', a podcast that casts a critical eye over the content and claims of health documentaries.
The music used in this episode is by Thula Borah and is used with permission.