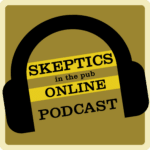 Seth Andrews is best known as host of the popular website, podcast, and online community, The Thinking Atheist. He is a broadcaster, storyteller, author, activist, and public speaker.
However, rewind a few years and you'd meet a very different Seth Andrews. As a former evangelical Christian he was once a captive of right-wing media, and Fox News in particular. In his new book he examines the Fox News culture, its influence on public opinion, and how it fuels public outrage, bigotry, and fear.
Join us for an open discussion with Seth where we'll dip our toes into this murky pond, and perhaps find out how he escaped. You can also take the opportunity to ask your own questions. To find out more about Seth: Website: https://www.sethandrews.com/ Facebook: https://www.facebook.com/seth.andrews.31 Twitter: https://twitter.com/SethAndrewsTTA
The music used in this episode is by Thula Borah and is used with permission.