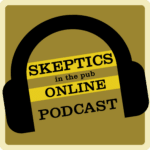 October 31st is Halloween – traditionally the scariest night of the year (although we're a bit more scared about what might happen in the US election a few days later). All things considered, it's pretty safe to say that this has been a slightly unsettling year for lots of people and the last thing we need right now is a bunch of ghosts and ghouls turning up and causing havoc on Halloween.
Fear not, however, because we're pleased to say that ghosts don't actually exist. But if ghosts aren't real, why do so many people believe that they've seen one? How can we explain the supernatural experiences people have reported? How do places develop a reputation for being haunted? What are those things that go bump in the night?
Richard Wiseman is a psychologist and author. For years, he has researched the science behind the paranormal. He will be discussing the natural explanations behind the supernatural and showing how the paranormal is perfectly normal. Richard will be Interviewed by his good friend Chris French, Head of the Anomalistic Psychology Research Unit at Goldsmiths.
Professor Richard Wiseman has been described by a Scientific American columnist as '…one of the most interesting and innovative experimental psychologists in the world today.' His books have sold over 3 million copies and he regularly appears on the media. Richard also presents keynote talks to organisations across the world, including The Swiss Economic Forum, Google and Amazon.
He holds Britain's only Professorship in the Public Understanding of Psychology at the University of Hertfordshire, is one of the most followed psychologists on Twitter, and the Independent On Sunday chose him as one of the top 100 people who make Britain a better place to live.
Richard is a Member of the Inner Magic Circle, a Director of the Edinburgh Fringe Festival, and has created psychology-based YouTube videos that have attracted over 500 million views. He also acts as a creative consultant, including work with Derren Brown, The Twilight Zone and the hit television show, Brain Games.
The music used in this episode is by Thula Borah and is used with permission.