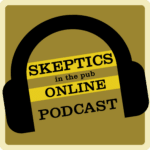 Since 2015, the long-running conspiracy theory of a flat Earth – that we live on a flat plane, under a flat dome, or on a planet circled by a ring of ice – has increasingly gained a foothold in the mainstream. What was once a concept on the fringes of society, seen as a long-running joke and kept to niche message boards, pamphlets, and blogs, is now a widespread idea held by millions of people, including politicians, media personalities, athletes, and celebrities. Where did this theory come from and why is it suddenly everywhere? Daily Beast extremism and internet journalist – and leading voice on online conspiracy theories –Kelly Weill will give a definitive and compelling history of the Flat Earth movement, from its origins in an 1800s English commune to its spread in the early 2000s with the rise of Facebook and YouTube to the recent disinformation campaign of the 2020 presidential election and COVID-19 pandemic.
Kelly Weill is a journalist at the Daily Beast, where she covers extremism, disinformation, and the internet. As a leading media voice on the role of online conspiracy theories in current affairs, she has discussed Flat Earth and other digital fringes on ABC's Nightline, CNN, Al Jazeera, and other national and international news outlets. She lives in New York.
The music used in this episode is by Thula Borah and is used with permission.