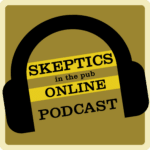 Perhaps now more than ever, the skeptics' movement can't afford to ignore racism and race pseudoscience. Kavin Senapathy learned this firsthand during her stint with the Committee for Skeptical Inquiry (CSI) and its parent organization the Center for Inquiry (CFI) speaking at its conferences, writing a column, and hosting the Point of Inquiry podcast. As one of the most visible skeptical organizations in the world, CSI owes a heightened duty to uphold skeptical ideals. Kavin will cover race, and, more broadly, diversity, equity, and inclusion as it pertains to the skeptics' community, with examples from her time working with CFI. Grab your beverage of choice and join Kavin as she takes you through crucial lessons for all skeptics and skeptical organizations— yes, even you, the one who doesn't get involved in politics.
Kavin Senapathy is a writer, journalist, and speaker covering science, health, food, and parenting at outlets like SELF Magazine, Slate, The Daily Beast, Forbes, SciShow, Undark Magazine, and more. She's also co-founder and contributing editor at SciMoms.com. She's based in the midwestern United States (ope!) where she is currently quarantine co-parenting a 3rd grader, a 1st grader, a puggle, and an Italian Greyhuahua. Find Kavin on Twitter @ksenapathy. Read Kavin's article on this topic here: https://undark.org/2020/02/20/center-for-inquiry-race-pseudoscience/
The music used in this episode is by Thula Borah and is used with permission.