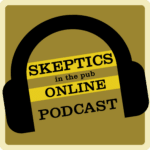 The intriguing title of the talk pretty much speaks for itself, and absolves us of not knowing any more. However, if you've ever wondered which of them would win in a fight, then you'll finally get an answer!Iszi Lawrence is the Author of The Unstoppable Letty Pegg (Bloomsbury), presenter of BBC Radio 4's Making History, The British Museum Membercast, Terrible Lizards and The Z List Dead List Podcasts. She is also a comedian and voice of The Skeptics Guide To The Universe.

To find out more about Iszi:
Website: https://iszi.com/
Twitter: https://twitter.com/iszi_lawrence
Facebook: https://www.facebook.com/iszi.lawrence/
Instagram: https://www.instagram.com/iszi_lawrence/
YouTube: https://www.youtube.com/channel/UCKr5IYVneZl1SBVFInBL6wA
The music used in this episode is by Thula Borah and is used with permission.